Taking advantage of the easter holidays we tried something different: an AoA game featuring the bakumatsu period of japanese history (roughly the first half of the XIXth century). The stats have been changed a bit following the ideas for skirmish games posted by a fellow arcana forum member (every model has 2 wounds, and does 1D3 wounds when attacking. Also, everyone has a fixed 1 save regardless of armour).
Aprovechando las vacaciones de pascua nos dio por probar algo diferente: una partida de Arcana ambientada en el período bakumatsu de la historia de Japón (aproximadamente correspondiente a la primera mitad del siglo XIX). Se cambiaron los perfiles de los soldados siguiendo las ideas para daptar el juego a escaramuzas que posteó un miembro del foro en inglés del Arcana (cada figura tiene 2 heridas, cada taque hace 1d3 heridas, y todo el mundo tiene una tirada fija de salvación de 1 por defecto, aunque no lleven armadura)
The story: a french merchant has been caught smuggling goods into a feudal domain. The samurai officers there have arrested him, violating the extraterritoriality accords, so a french landing party has been sent to the village where he is being kept. The french objective is to free the merchant and flee with him, while the samurai have to stop them.
La historia: un comerciante francés ha sido sorprendido haciendo contrabando dentro de un dominio feudal. Los oficiales samurai le han arrestado, violando en tratado de extraterritorialidad que firmara el shogun años ha, así que un navio francés desembarca un pelotón de tropas que se diige a la aldea donde tienen al comerciante preso. El objetivo de los franceses es liberar al mercader, y el de los japoneses es impedírselo.
The battlefield. The merchant is located in a random building.
El campo de batalla. El comerciante se encuentra en uno de los edificios elegido al azar.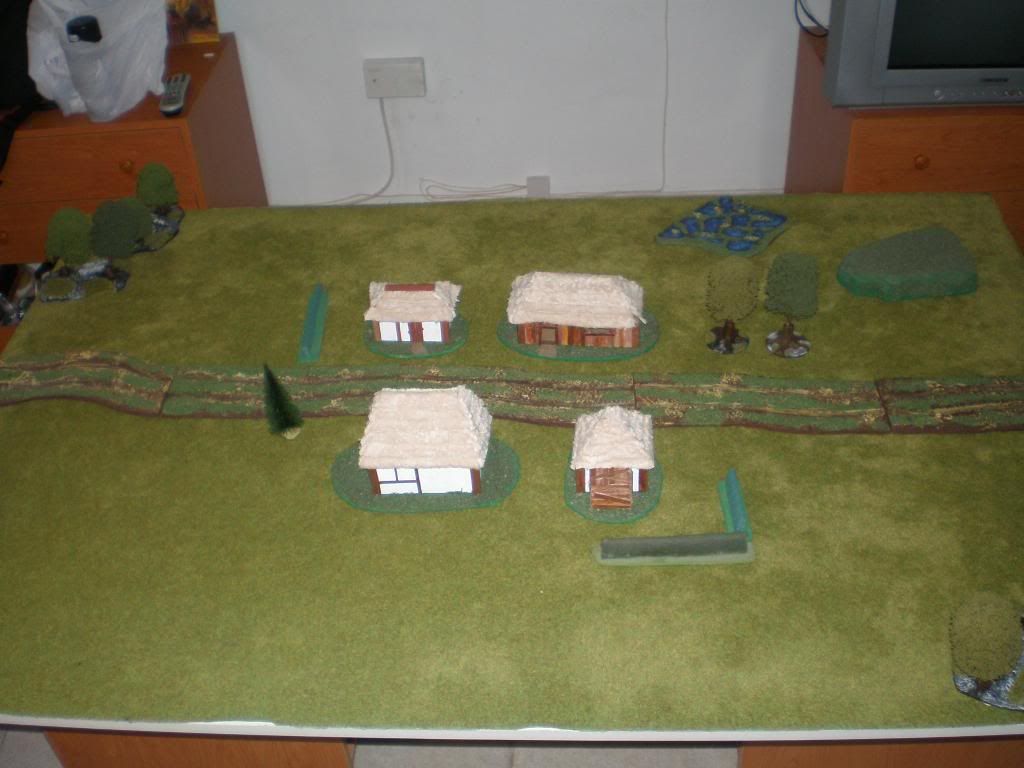 Japanese forces: ten unarmored samurai, 20 armoured ones, 10 armoured arquebusiers, 3 archers and a modern-rifle wielding sniper
Los japoneses: 10 samurai sin armadura, 20 con, 10 arcabuceros acorazados, 3 arqueros y un tirador con un moderno fusil inglés.
The french troops: a hero armed with sword and pistol, 7 sailors and 6 marines (who were elite shooters, had bayonets and higher morale)
Las tropas francesas: un heroe rmado con espada y pistola, 7 marineros y 6 marines (que eran tiradores de élite, tenían bayonetas y mejor moral)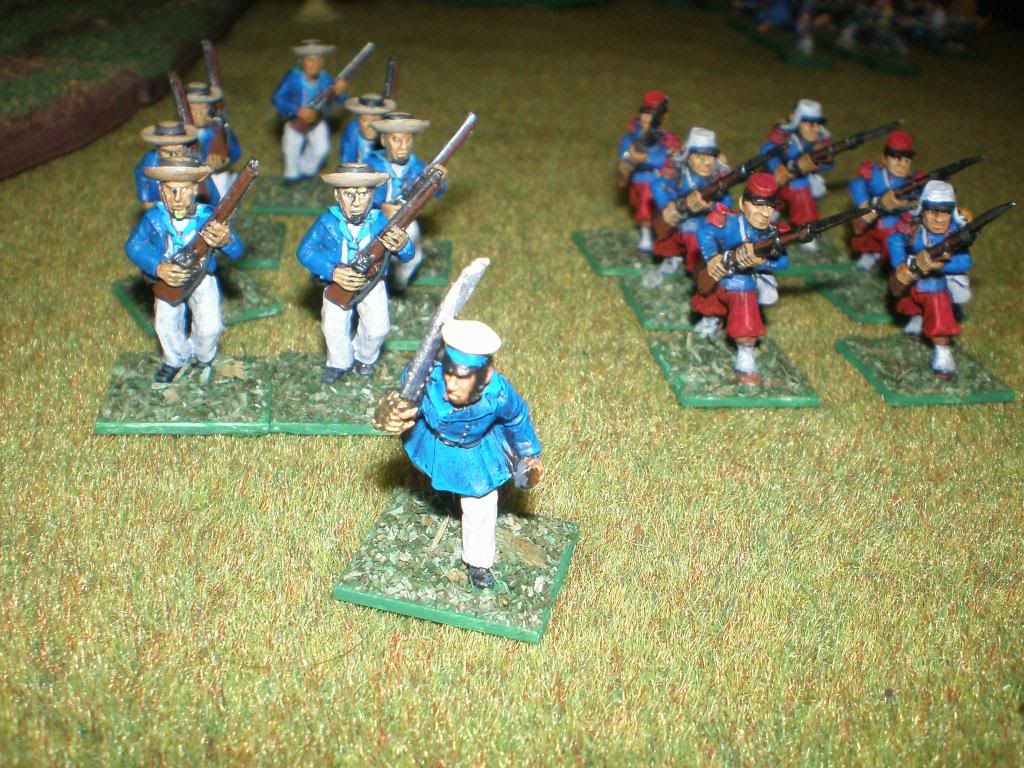 The samurai deployed first. The french player decided to try a corner attack using the cover of the hill and the slowing effect of the pound.
Los samurai desplegaron primero. El jugador francés decidió salir po una esquina aprovechando la cobetura que daba la cercana colina y el efecto enlentecedor de la charca cercana.
The battle started with the french taking positions while the entire japanese army moved towards them
La batalla empiez con los franceses tomando posiciones mientrs el ejército japonés en bloque se les tira encima.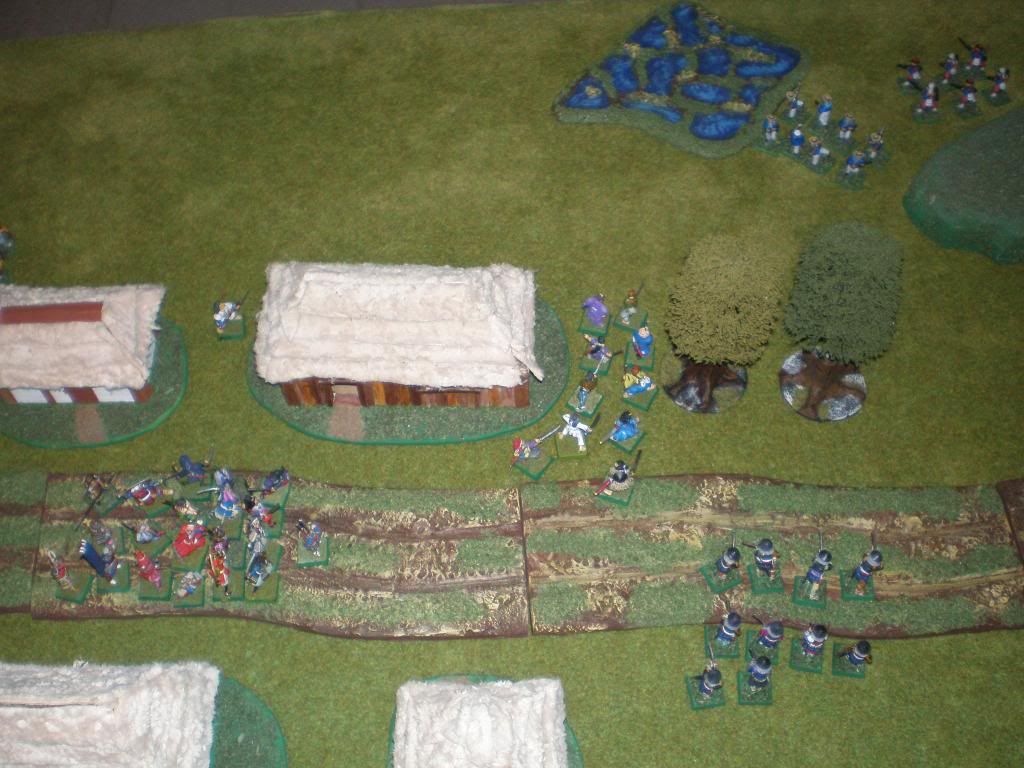 Stand & shoot!
¡Aguantar y disparar!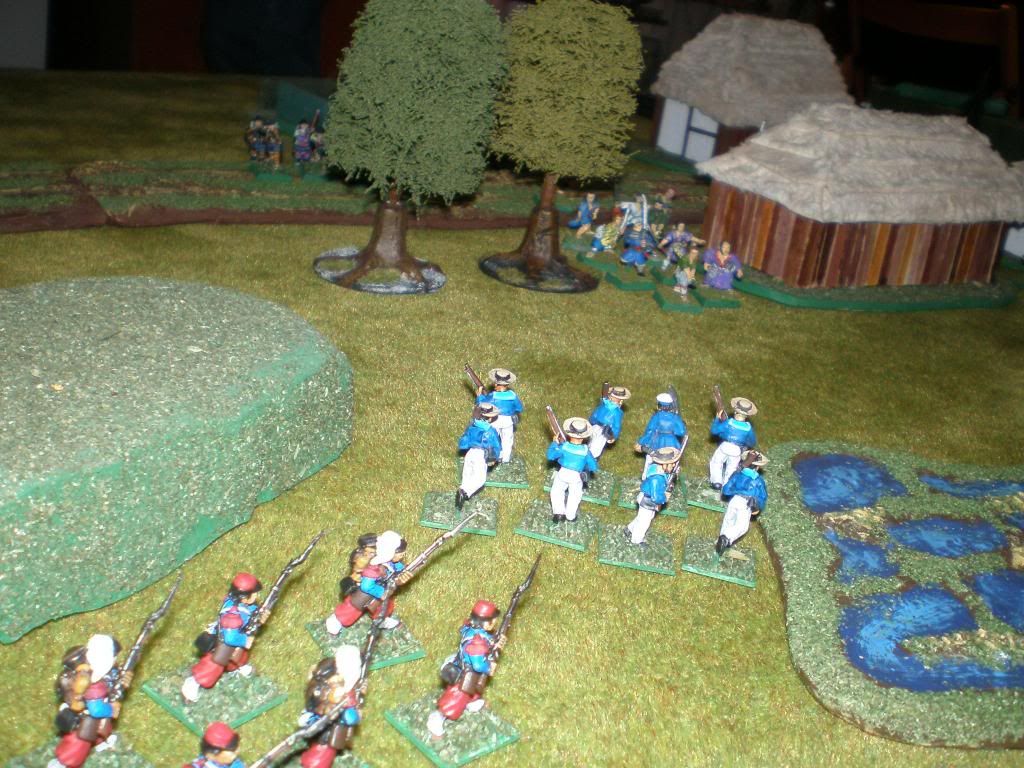 The first french casualty is produced when an archer strikes home. The shooting against the unarmoured samurai is poor but enough to make them test...
Se produce la primera baja francesa cuando un arquero acierta con sus flechas. La puntería contra los samurai sin armadura es mala pero suficiente para hacerles chequear moral...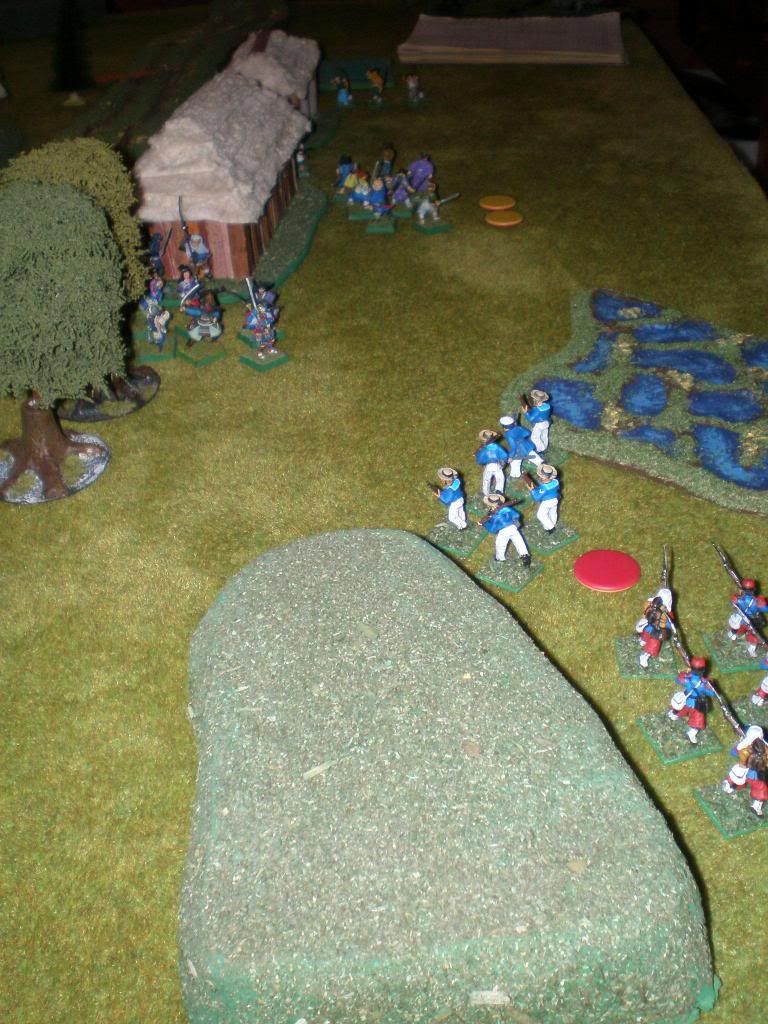 ... and break! But now the armoured samurai are getting closer.
...y correr! Pero ahora los samurai acorazados se están acercando.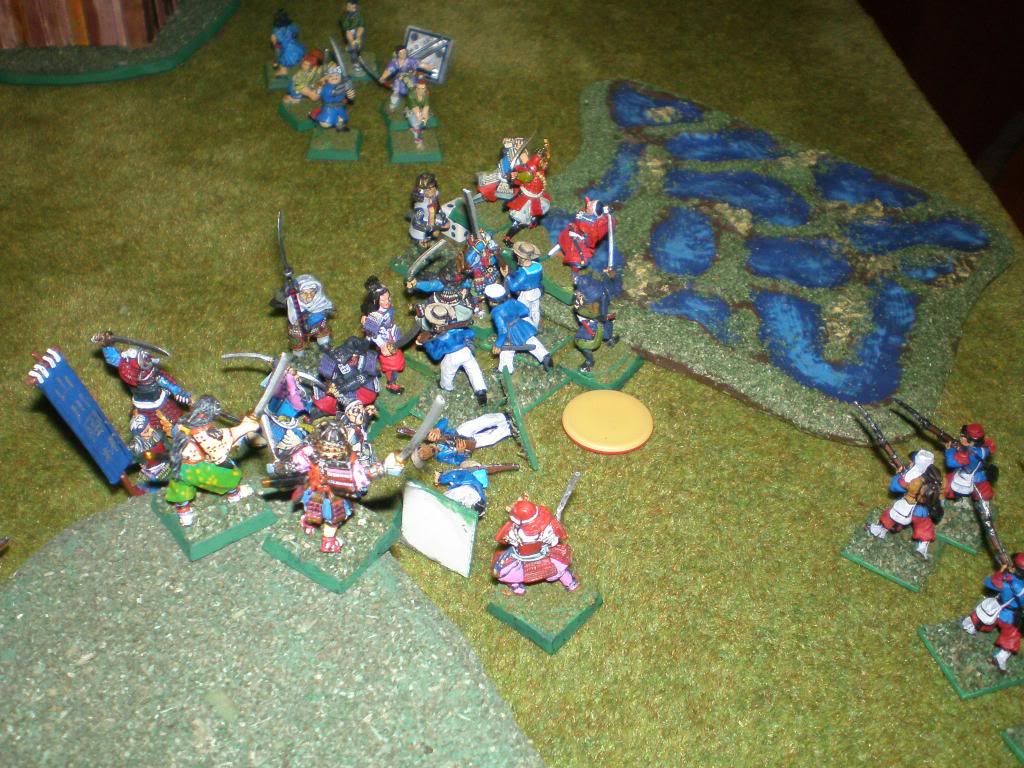 After two rounds of very poor shooting, the sailors are chaged and cut to pieces
Tras dos turnos de malísima puntería por parte europea los samurai cargan y destrozan a los marineros
Then the entire army moves on the marines.The battle is over
Entonces el ejército entero cae sobre los marines. Y la batalla termina.
We played a second game with similar results (but with a lot more japanese casualties). Don't know if it is simply too unbalanced or if the french player's abismal luck had something to do. We will have to try it again.
Jugamos una segunda partida con resultados similares (aunque muchas más bajas por parte nipona). No se si es que está demasiado desequilibrdo o si la malísima suerte del jugador francés fue lo que decidió las cosas. Tendremos que volver a probarlo más adelante